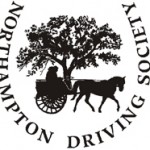 The management of Springdale Farms, at Northampton Park, Monroe County Parks Department, organized a carriage driving event in June 1987 for entertainment of the general public.  On September 17, 1987, a group of 13 people met to organize the drive for the following year.  The Northampton Driving Society is an outgrowth of that effort.
The Northampton Driving Society (NDS) was formed to promote the equine sport of carriage driving.  It was started with the novice whip in mind, but strives to reach all members equally.
In addition to hosting the annual show at Northampton Park, the NDS provides educational opportunities for the membership, typically sponsoring at least two seminars each year.  It also organizes pleasure drives and other outings for all members.
The NDS is funded primarily by the collection of annual dues and an auction held at our annual dinner meeting in January.
Membership is open to any persons wishing to become a member.  Our membership is approaching 100.  Driving or even owning a horse is not necessary to enjoy the benefits of the organization.
=================================================
Effective June 14th, the NDS meetings are moving to:
Town of Sweden Recreation Department
4927 Lake Rd South Brockport, NY 14420
The building is behind the Aldi's in Brockport. Per GoogleMaps, it looks like you have to drive past the Aldi's entrances and turn down a road called Baders Way. The Rec Dept would be on the left.